[ad_1]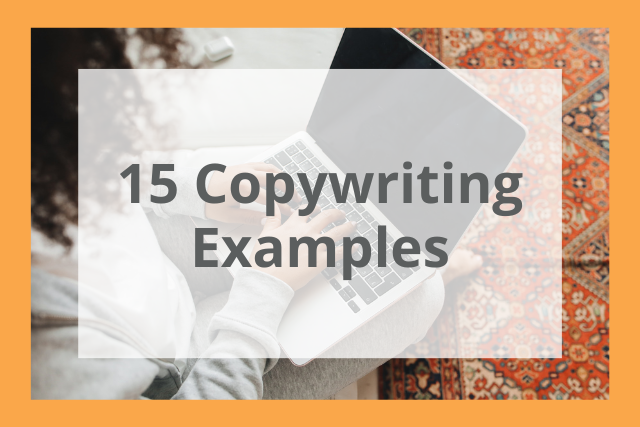 Ad copy is a type of copywriting that plays a crucial role in helping businesses attract new customers. Almost every brand uses ad copy in some form, whether it's an expensive billboard or a simple Instagram post.
So, what exactly is ad copy?
The short answer is that ad copy refers to any form of writing that's used in advertisements. The purpose of ad copy is to encourage people to buy a product or service.
This article will explain what ad copy is, explain some popular ad copywriting techniques, and show you some great ad copy examples.
Quick Recap: What Is Ad Copy?
Before we look at examples, let's start with a quick overview of what ad copy is.
Ad copy, or advertising copy, is the text or written content that's used in an advertisement.
Think about what salespeople do when they speak to potential buyers. They talk about what features a product has and how those features can add value to people's lives. They also try to speak in a personable, engaging way that makes people want to like them.
Ad copy does all of that but in written form.
You'll see ad copy in a variety of mediums, including magazines, TV commercials, and social media. These days, many companies run ads on Facebook, Twitter, and Instagram to appeal to an online audience.
High quality ad copy should be clear, concise, and engaging, and it should be tailored to the specific audience it's intended for. It should also be aligned with the overall branding and marketing strategy of the business or company.
There are many different techniques that ad copywriters can use to make people feel compelled to buy a product. Here are some particularly popular techniques:
Bandwagon ad copy: makes it sound like everyone is using the product, so people who haven't bought it yet start feeling afraid of missing out
Before and after ad copy: shows a customer's life before and after using the product, so people see that life is much better with the product than without it
Comparison ad copy: compares the advertised product to a competitor's product to show the superiority of the advertised product
Cost savings ad copy: tells people how much money they can save by using this product instead of a more expensive one
Discount ad copy: offers discounts like buy one get one free or 20% off
Durability ad copy: highlights how long-lasting a product is
Ego ad copy: makes people feel good about themselves for buying the advertised product, such as by calling them smart, ethical, or kind
Empathy ad copy: makes people feel sympathetic toward a cause (often used for nonprofit fundraising)
Factoid ad copy: uses facts and statistics to come across as knowledgeable and informed
Feature showcase ad copy: describes the features of a product
Free trial ad copy: allows people to try the product for free before committing to paying for it
Humorous ad copy: makes a memorable impression by making people laugh
Local bias ad copy: caters to a specific region by emphasizing the local qualities of the brand
Scarcity ad copy: shows people that this product is running out fast and that they should buy it while it's still available
Social proof ad copy: shares testimonials and reviews from other customers who have loved the product
Time saving ad copy: tells people how much time they can save by using this product instead of a more labor-intensive one
Zero-risk bias ad copy: makes people feel at ease buying a product by telling them there's no risk
You might see ad copy using many of these techniques at the same time to elicit an emotional response from the potential buyer.
Successful ad copy boosts sales, increases brand awareness, and makes people feel more positive emotions about the advertised product. The best ad copywriters have great business acumen, as well as an understanding of human psychology, and combine both fields of expertise in their ad copy.
Best Ad Copywriting Examples
The best way to understand any form of copywriting is to see it in action.
Here are 15 ad copywriting examples that successfully use advertising techniques to engage their target audience and sell products.
1. Glossier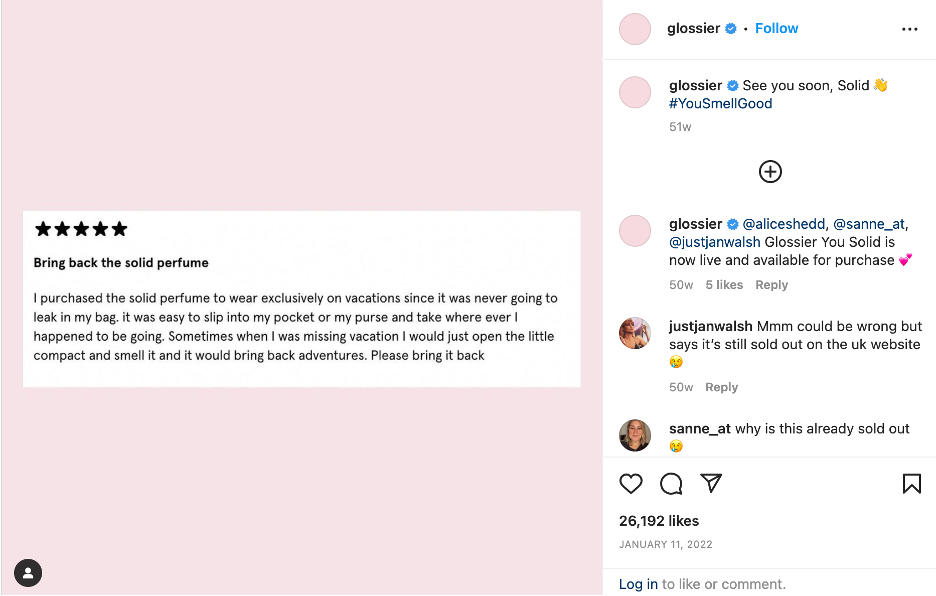 Glossier is a beauty company that sells makeup, perfume, and more. The above image is an example of Glossier's Instagram ad copy.
Glossier posted this photo to their Instagram account to advertise the return of their Solid Perfume product. This is a great example of ad copy that uses the social proof technique.
The ad relies on the customer testimonial in the photo, which highlights the value of the solid perfume with phrases such as, "it was easy to slip into my pocket" and "it would bring back adventures." The caption is simply "See you soon, Solid," implying that Glossier plans to bring back their solid perfume line.
By keeping the ad short and sweet, Glossier allows the testimonial to speak for itself.
2. Hampton Hotels
Hampton Hotels is a chain of moderately priced hotels.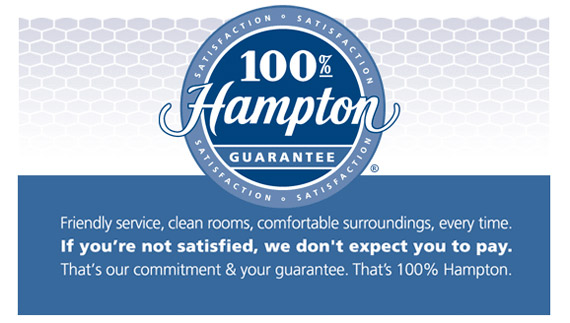 This Hampton Hotels ad highlights the key benefits they offer customers in quick, succinct wording: "friendly service, clean rooms, comfortable surroundings, every time."
The key selling point of this ad is the 100% satisfaction guarantee, which uses the zero-risk bias technique to reassure people who are still hesitant about booking a stay. Once they know there's no risk of losing money on a bad experience, many people will be more willing to become Hampton customers.
3. Calm
Calm is a meditation app that uses guided meditations to help people relax, sleep better, and improve their mental health.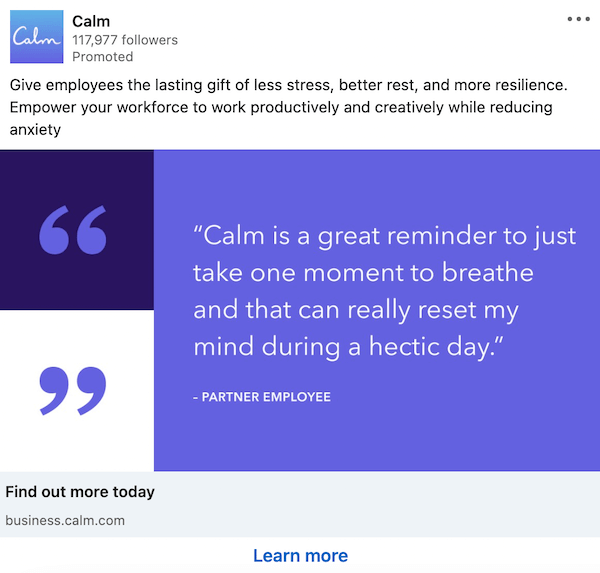 This is an ad that Calm posted to LinkedIn. It uses an anonymous testimonial from a "partner employee," which shows the value of Calm for someone busy at work.
Notice that their ad copy is tailored specifically for LinkedIn users, who are likely to be busy working professionals who manage employees.
Instead of focusing on the benefits of using Calm as a personal app, this ad uses phrases such as "Give employees the lasting gift of less stress" and "Empower your workforce to work productively" to appeal directly to professional managers.
4. Beyond Meat
Beyond Meat is a producer of plant-based meat substitutes. They make burger meat, sausages, and more, all out of vegan materials.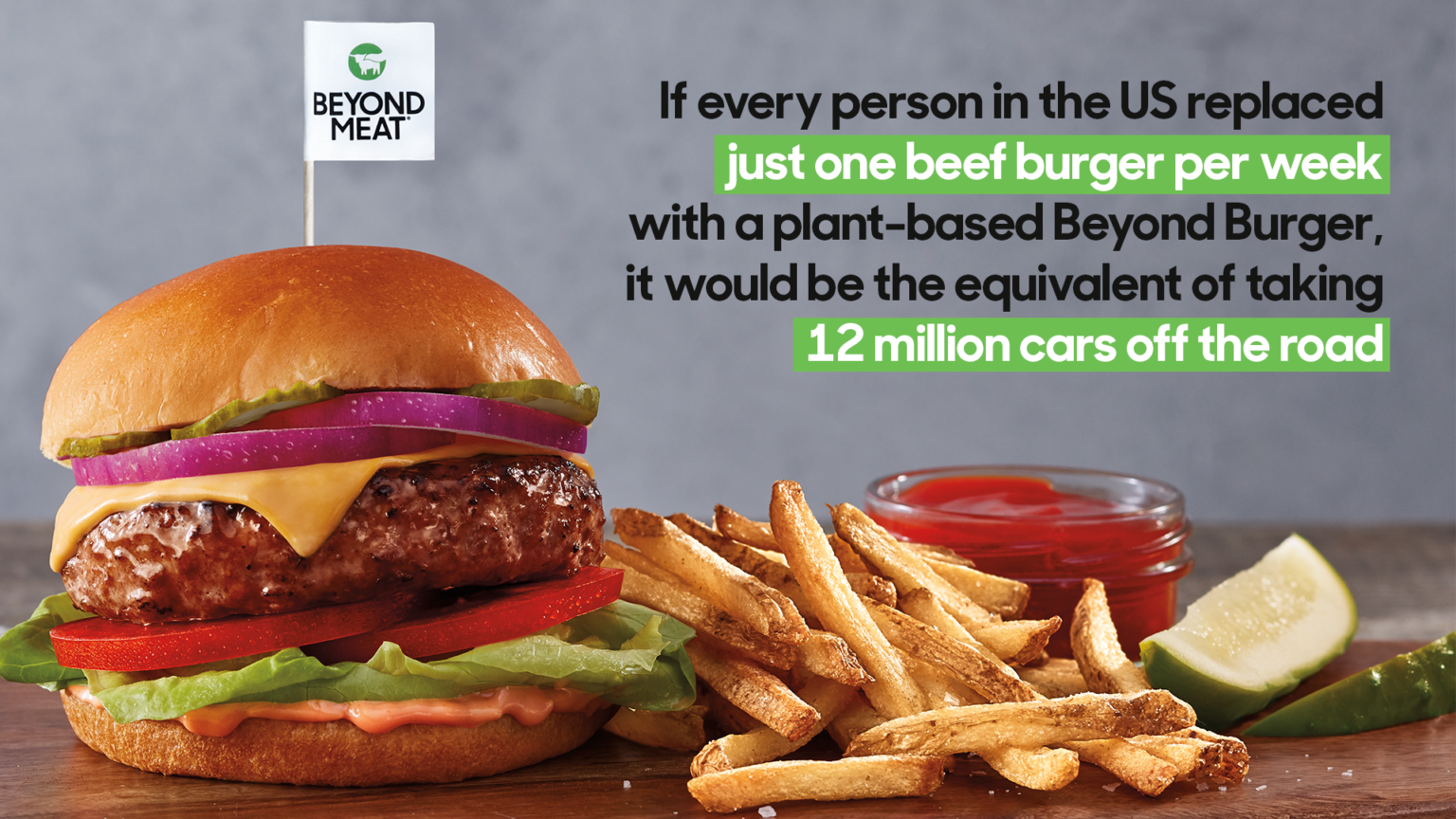 This ad has only one line of copy: "If every person in the US replaced just one beef burger per week with a plant-based Beyond Burger, it would be the equivalent of taking 12 million cars off the road."
This line of copy subtly mixes the ego technique and the bandwagon technique in a very effective way. It compliments people by making them feel like they're saving the environment by choosing Beyond Meat, and it also uses the bandwagon technique by implying that everyone in the US needs to do their part to save the planet.
People who see this ad will probably feel guilty for eating beef burgers, so they might be more inclined to choose a Beyond Burger the next time they have that option.
5. De Beers
De Beers is a diamond company that helped popularize the tradition of buying diamond engagement rings.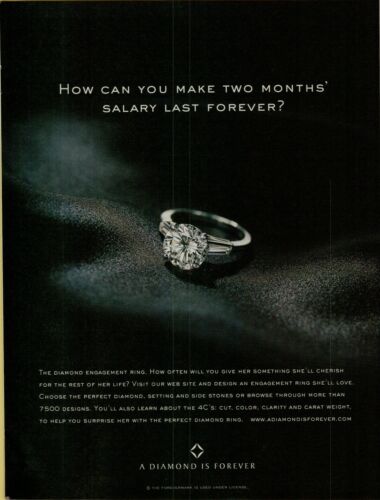 This is one of the print ads from De Beers' famous ad campaigns. The tagline, "How can you make two months' salary last forever?" implies that paying an exorbitant price for an engagement ring will ensure a lasting marriage.
Within the paragraph text, the sentence, "How often will you give her something she'll cherish for the rest of her life?" emphasizes the scarcity of this opportunity by claiming that it's one of the most important purchases of a lifetime. It uses the durability technique to imply that a perfect diamond ring will last forever, just like a perfect marriage.
6. BMW
BMW is a luxury car manufacturer.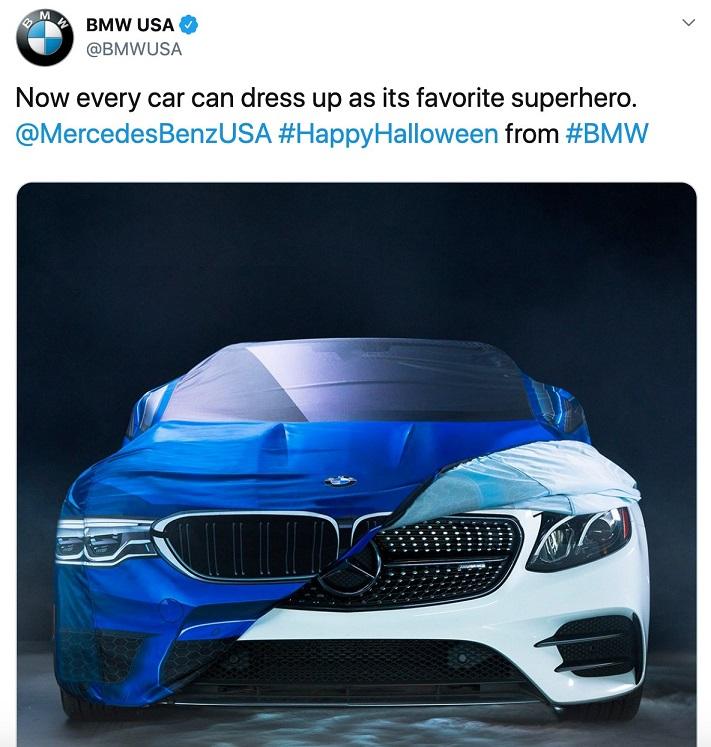 This is a Twitter ad they ran on Halloween that got thousands of likes, comments, and retweets.
The ad features a photo of a Mercedes-Benz sports car dressed up as a BMW for Halloween. The caption is "Now every car can dress up as its favorite superhero," implying that every Mercedes dreams of becoming a BMW.
This ad uses the comparison technique to make BMW look superior to one of their rival companies, Mercedes-Benz. It also uses humor to make people retweet it and remember it.
Notice that this ad sticks to a fun, timely, and lighthearted tone. It gently makes fun of Mercedes-Benz without being mean or petty.
7. Warby Parker
Warby Parker is a retailer of prescription glasses, sunglasses, and contact lenses.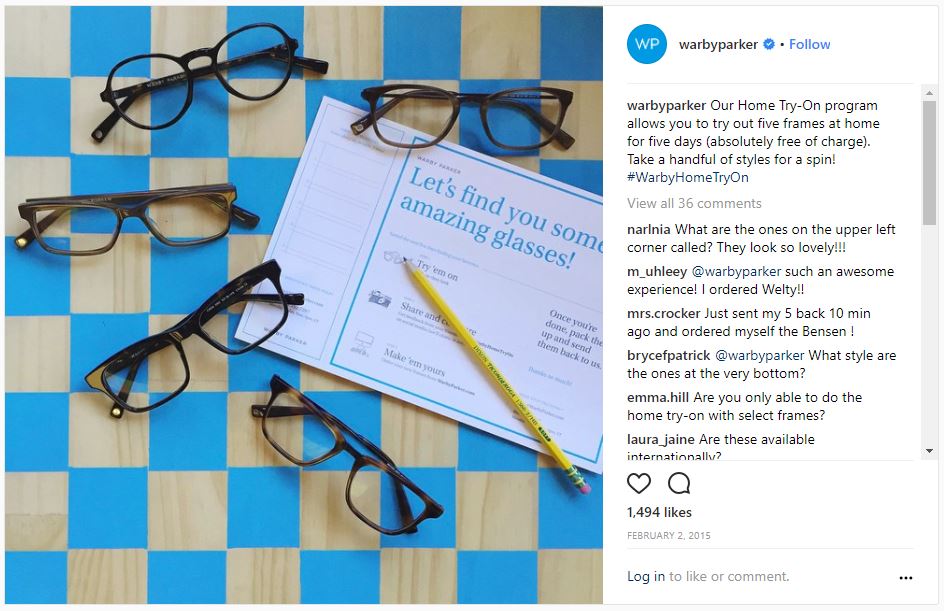 This Instagram ad highlights Warby Parker's Home Try-On program, which allows you to try five pairs of glasses for free to see if they look good on you. This is a great example of the free trial technique in action.
The copy is personable and casual, with the closing line "Take a handful of styles for a spin!"
Many people will sign up for the free trial after they see this ad, even if they weren't originally planning to buy a pair of glasses. If they like what they see, they might be tempted to buy their favorite pair.
8. Pillow Cube
Pillow Cube is a pillow company that makes pillows designed for side-sleepers.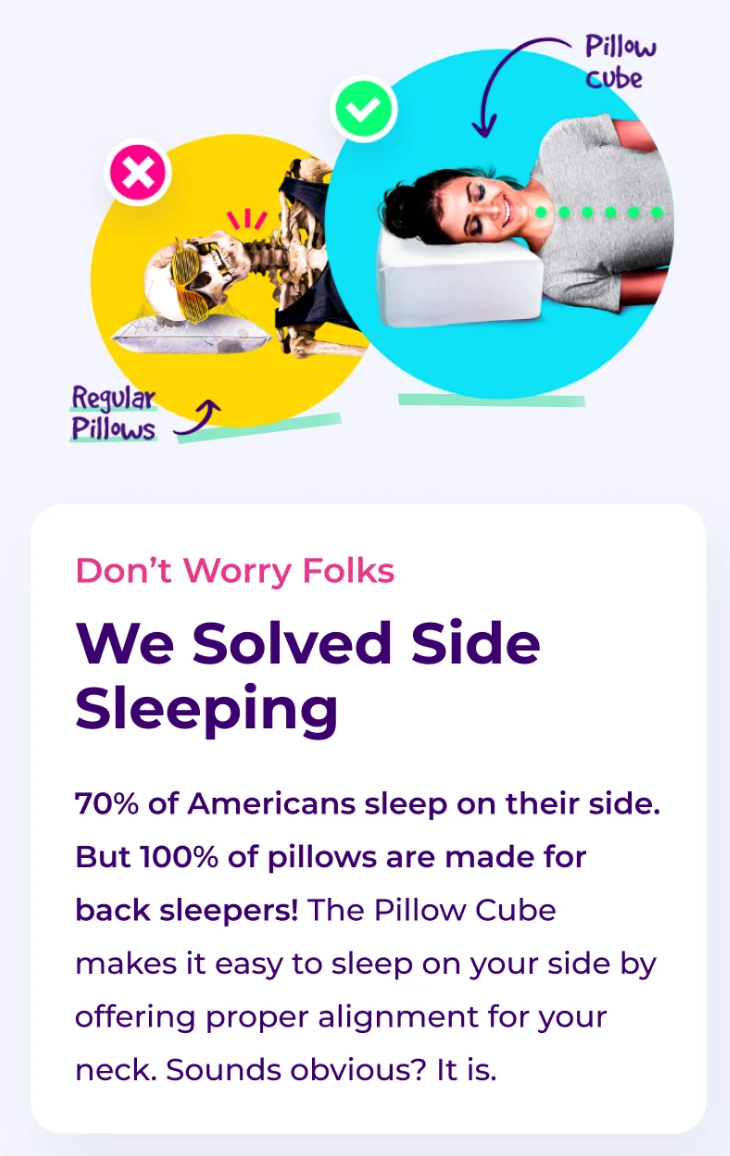 This ad uses the facts technique to share expertise and position the company as a knowledgeable brand. The statistic, "70% of Americans sleep on their side," tells you something new and also makes you feel like you're part of a bandwagon if you sleep on your side too.
This is also a good example of the comparison technique, since the ad directly compares Pillow Cube to all other pillow companies. It shows other pillow companies as bad for side sleepers, while only Pillow Cube offers "proper alignment for your neck."
9. Aguulp
Aguulp is a prebiotic company that makes supplements to improve gut health.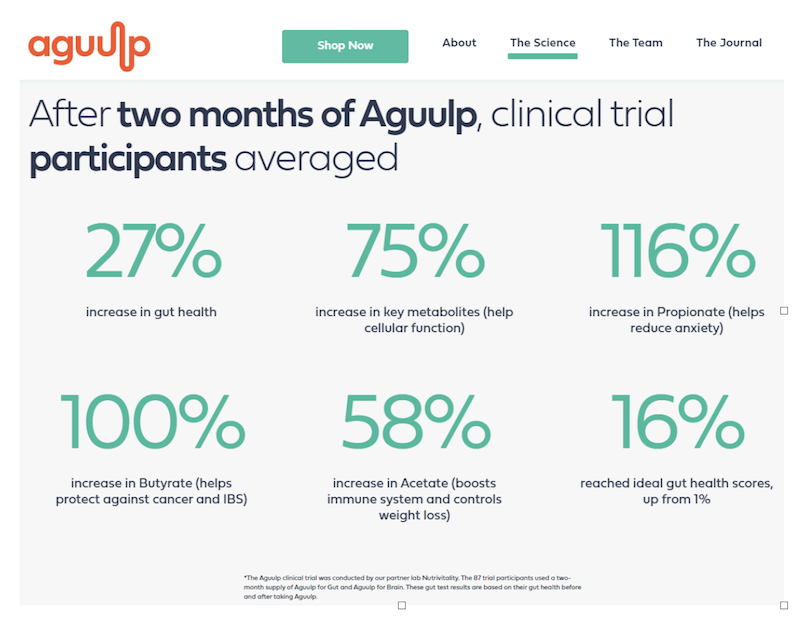 This Aguulp ad uses the before and after advertising technique to demonstrate the effectiveness of their product. You can see all the positive effects that people experience after two months of using Aguulp, such as a 27% increase in gut health and a 75% increase in key metabolites.
This ad also uses the facts technique, making Aguulp look knowledgeable and scientific. The large percentages on the screen focus on facts and science.
The copywriters who made this ad clearly knew the brand's target audience, highlighting factors that are likely to matter to people who want to improve their gut health.
10. Hinge
Hinge is a dating app that helps single people connect with one another.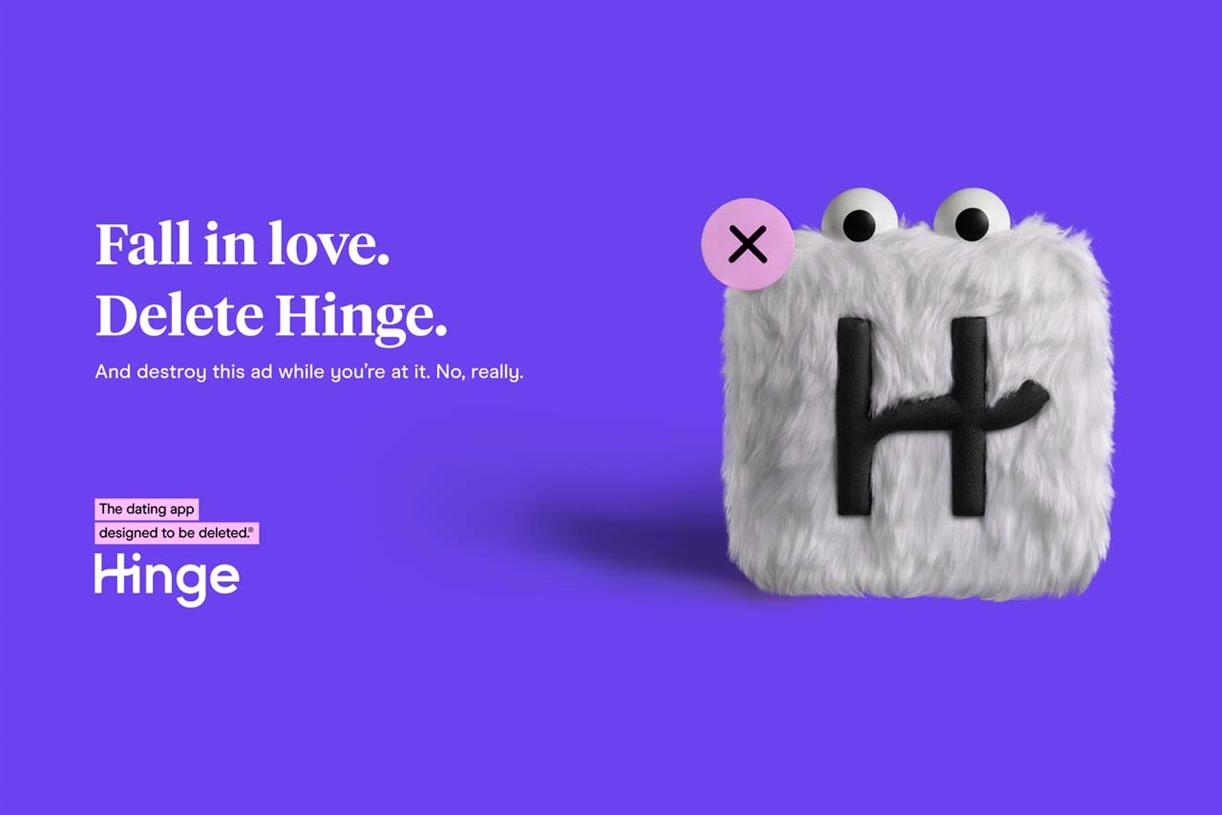 This web ad demonstrates a clear understanding of Hinge's target audience. The copywriters behind this ad are clearly aware of the fact that many people who use dating apps complain about the dating app experience to their friends and hope they'll be able to stop using those apps soon.
The headline is "Fall in love. Delete Hinge," which implies that Hinge is so successful at creating long-term relationships that you won't need to use the app for very long.
The sentences "And destroy this ad while you're at it. No, really" also imbue the ad with a slightly self-deprecating tone, adding an extra layer of humor.
11. Wealthfront
Wealthfront is an automated investment tool that helps you grow your personal wealth. It's a smaller company than most traditional investment banks.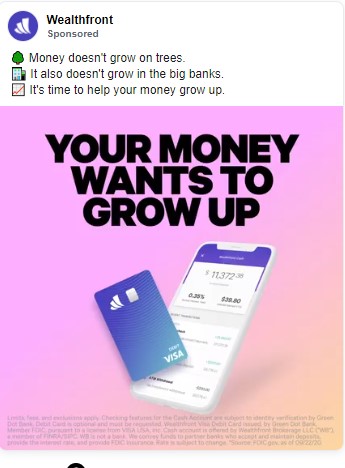 This Facebook ad consists of three short, simple sentences that appeal to Wealthfront's target audience: "Money doesn't grow on trees. It also doesn't grow in the big banks. It's time to help your money grow up."
The second sentence uses the comparison technique to imply that big banks can't help you grow your wealth the way a smaller company like Wealthfront can. It doesn't go into detail about what Wealthfront is or what Wealthfront does, but it successfully intrigues people on Facebook who are hoping to grow their assets.
12. Ban.do
Ban.do is an e-commerce website that curates apparel, gifts, stationery, and other products for their customers.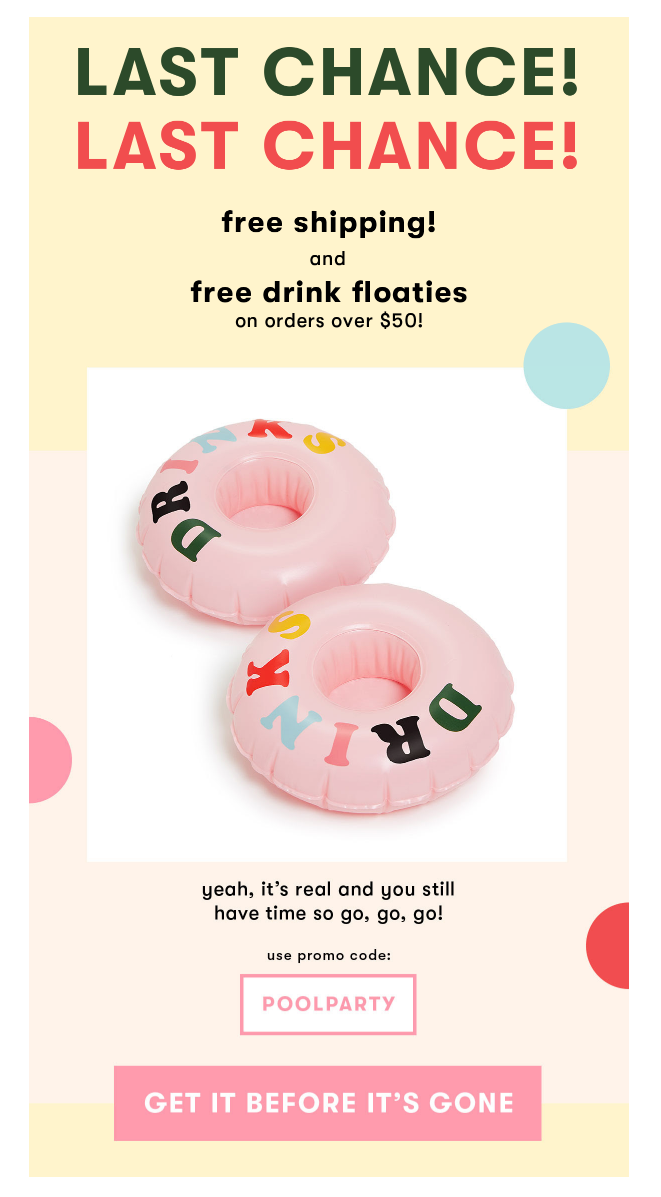 In this ad, Ban.do uses the scarcity mindset to make readers feel a sense of urgency. Everything about this ad is designed to make people act fast.
The phrases "Last chance," "Get it before it's gone," and "go, go, go!" make it clear that this offer is about to end, which encourages potential customers to act quickly.
The "free shipping" and "free drink floaties" offers also create small free incentives for people to buy from them.
13. Native
Native is a natural deodorant company that prides itself on making paraben free, aluminum free deodorant.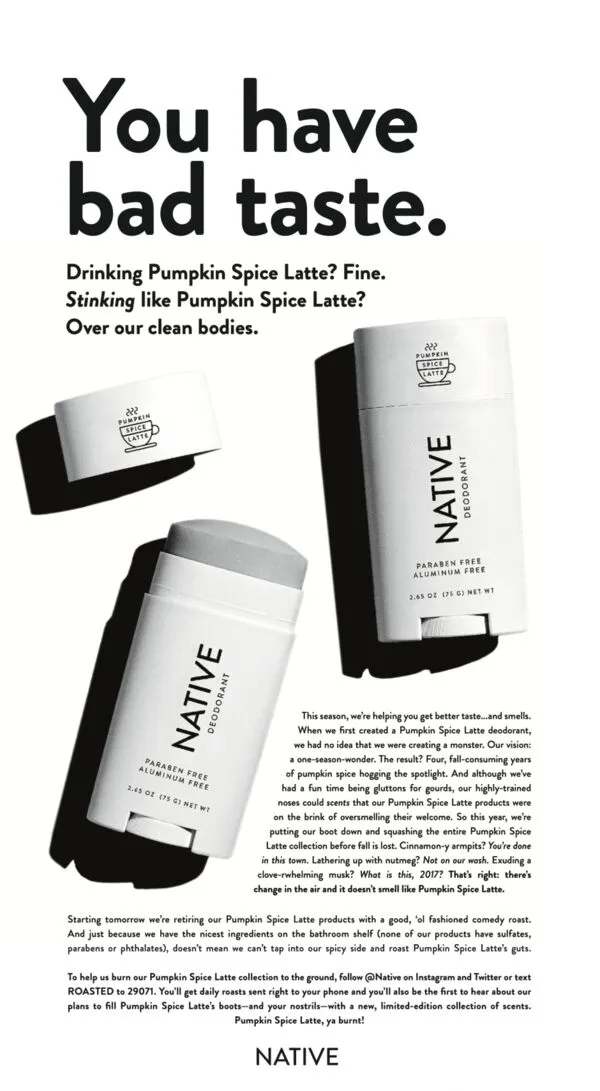 This magazine ad is a rare example of the opposite of the compliments technique. Instead of complimenting its target audience, it insults them with the headline "You have bad taste" and text like "What is this, 2017?"
This insult does a great job hooking the audience in and grabbing their attention. It also taps into the cultural consciousness by acknowledging that many people make fun of Pumpkin Spice Lattes as a sign of bad taste, even though it's a popular drink.
The ad then follows up by promising "This season, we're helping you get better taste" and explaining that it's about to retire its Pumpkin Spice Latte products with a comedy roast.
This is a great example of ad copy that's humorous and slightly self-deprecating. It demonstrates that the Native brand isn't afraid of gently poking fun at itself.
14. Allbirds
Allbirds is a shoe company that sells easily wearable, convenient shoes.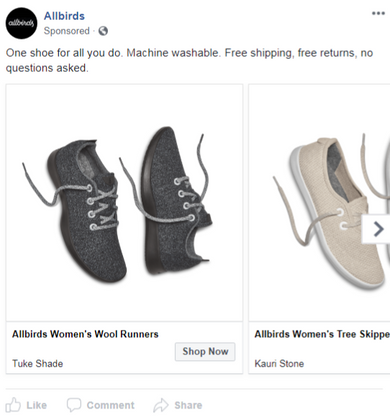 This piece of Facebook ad copy taps into the time savings technique, making people think about how much time they'll be able to save by buying Allbirds shoes. Allbirds knows their target audience is people looking for convenience and ease, rather than high fashion or trendiness.
The sentence "One shoe for all you do" tells people they won't have to waste time buying different shoes for different occasions or worrying about which shoes to wear in specific situations.
"Machine washable" also highlights the convenience of being able to throw your shoes into the laundry machine when they get dirty, instead of washing them by hand.
The final line, "Free shipping, free returns," eliminates the risk of buying Allbirds shoes and makes customers feel safe making a purchase.
15. Wondrium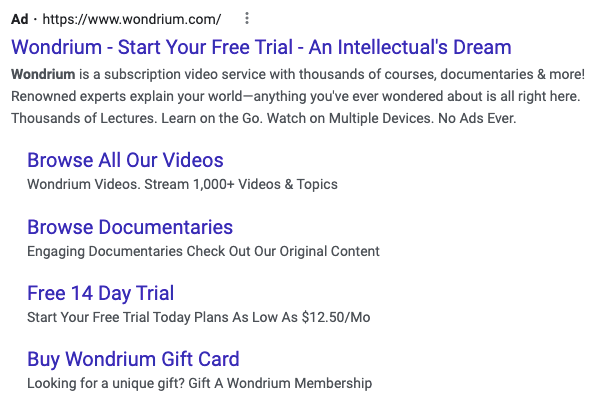 Most people might not think of Google search results as an advertising tool, but it's a huge one. Search ad copy is crucial for making people sign up.
Wondrium is a video subscription service that offers documentaries, lectures, classes, and other videos tailored for intellectuals. In this image, you can clearly see what Wondrium is and how they're positioning themselves.
The phrase "an intellectual's dream" appeals directly to Wondrium's target audience, who are proud of being intellectuals and lifelong learners.
The 14-day free trial also entices people to sign up and give Wondrium a try. People who are Googling different video subscriptions might see this Wondrium search ad and decide to try it out.
Why Copywriters Love ProWritingAid
Ad copywriting isn't an easy job. If you want to write ad copy that sells products, you need to make sure your writing excels in multiple ways.
For one thing, you need to ensure your writing is error-free if you want to be a successful copywriter. After all, a single spelling mistake or grammar error could undermine the impact of your message.
It's also crucial to make sure you're writing in the right tone and vocabulary to engage your target audience. The first rule of copywriting is to connect with your audience.
And, of course, you want your writing style to be persuasive and clear. Convoluted and clunky writing won't grab your reader's attention as well as simple, concise writing.
ProWritingAid is a popular AI-powered editing tool that can help with all of these needs.
Its algorithms can catch your grammar and spelling mistakes, make sure your tone is appropriate for your target audience, and draw your attention to stylistic weaknesses. When you run your copy through ProWritingAid, you can catch all your typos, punctuation errors, weak adjectives, repetitive sentences, and more.
Here are just a few of the 20+ reports you get with ProWritingAid:
Writing Style Report: highlights areas of your text that a copyeditor would tell you to revise, including passive voice, overuse of adverbs, repeated sentence starts, and more
Grammar Report: uses advanced AI to catch grammar mistakes, punctuation errors, and misused words
Overused Words Report: highlights words that weaken your writing, such as "very," "just," and "maybe"
Clichés and Redundancies Report: picks up on tired phrases and sentences so you can find fresh ways to express your ideas
Readability Report: uses top readability tools, such as the Flesch Reading Ease Score, to highlight sentences that will be hard for readers to understand
If you tell ProWritingAid what type of document you're writing, it will tailor its suggestions to suit the specific needs of copywriters. That way, you only see suggestions that are relevant to your document type.
You can easily integrate ProWritingAid into your writing routine using one of its many plug-ins. With the Chrome browser extension, for example, you can see suggestions directly within the webpage you're writing web copy on.
Conclusion on Ad Copywriting Examples
There you have it—a complete guide to ad copywriting.
Here's a recap of our key takeaways:
The best ad copy uses a variety of techniques, such as comparison, facts, humor, and more.
Good ad copywriters understand their target audience and write copy that's tailored to that audience.
ProWritingAid can help you make sure your ad copy shines.
Great ads are all around us. You see them every time you open a social media app or flip through a magazine.
Next time you come across an ad that catches your attention or makes you curious about a product or service, take a second to examine why you're feeling that way. What techniques are those copywriters using to draw you in? How can you use those same techniques in your own work?
Don't forget to run your ad copy through ProWritingAid to make sure your writing is clear and error-free.
Good luck, and happy writing!
[ad_2]

Source link